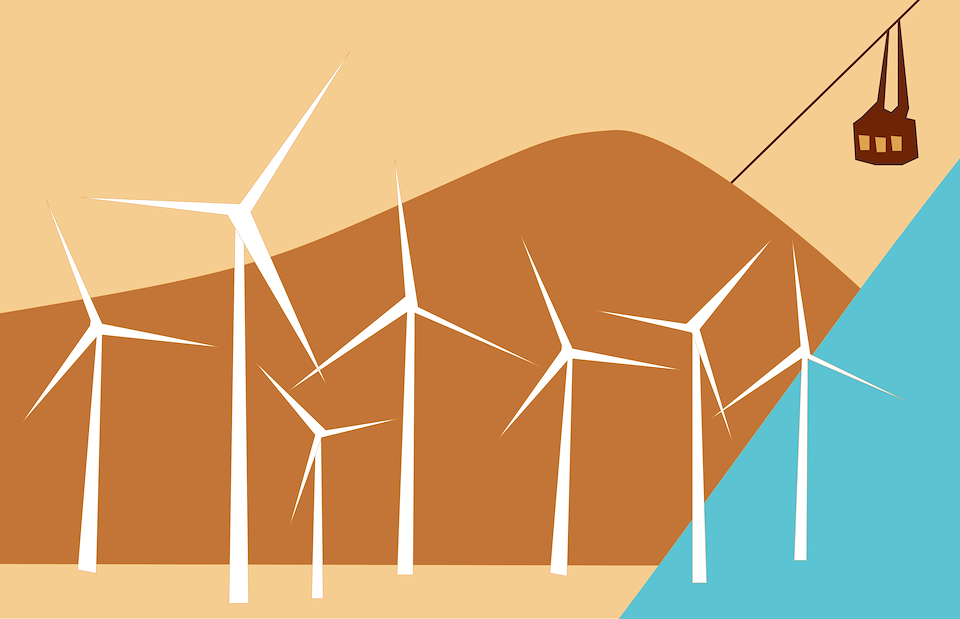 Tramway to Heaven (round trip)
The Palm Springs Aerial Tramway and wind turbines are iconic symbols. This digital drawing is featured as part of the Palm Springs Public Arts Bench Project. The design was used as a reference to paint a concrete bench at the entrance of the historic Palm Springs International Airport. It is available in a variety of sizes for purchase.
Mid-life Moment of Truth!
As women, we are trained by society to be looked at (referencing Barbara Kruger's Your Gaze Hits the Side of My Face) – and then, we become invisible at a certain age. Midlife Moment of Truth is my response to choose boldness, power, and even outrage in response to the bondage of appearance, expectation and being "enough."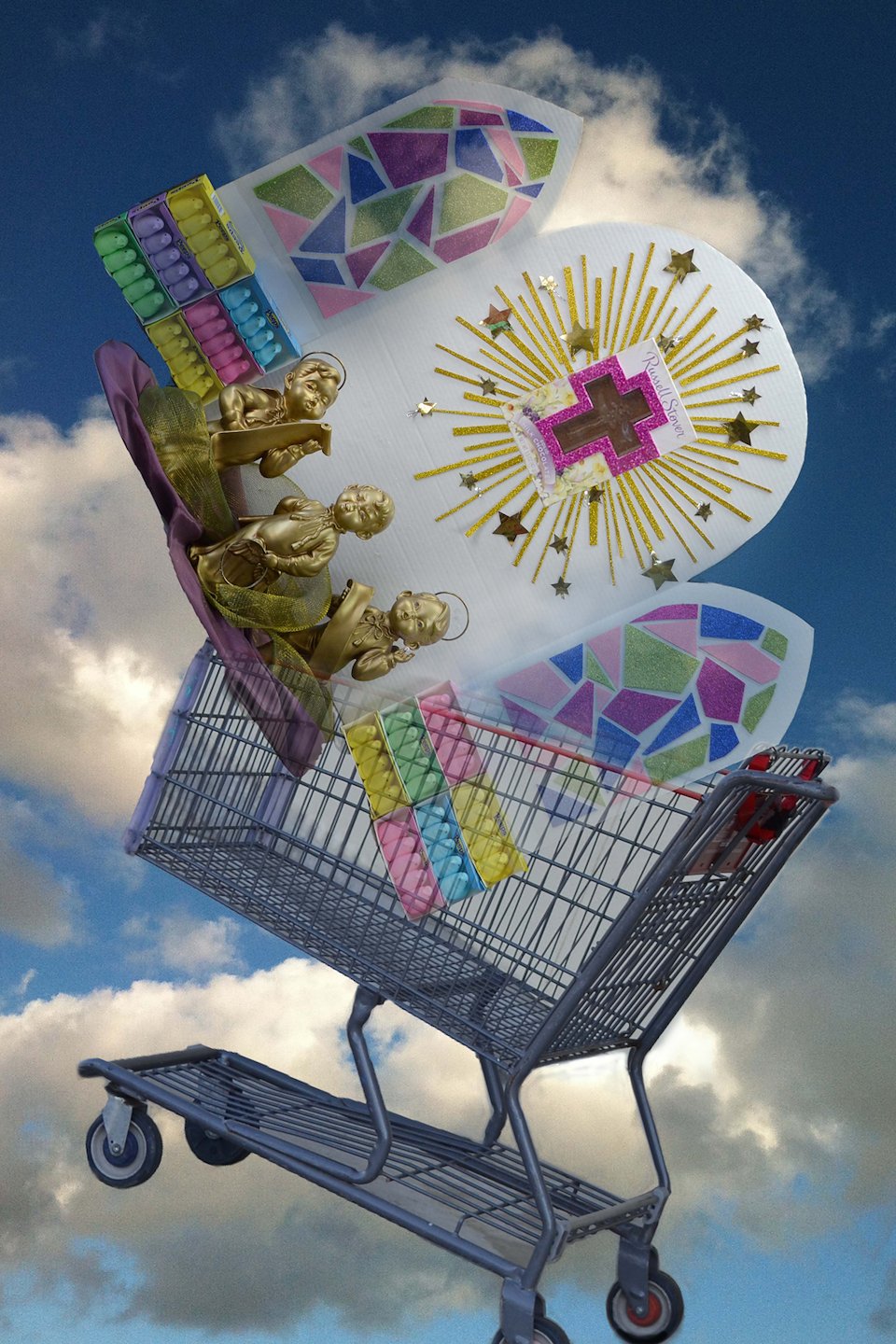 A Craving
The origins of the piece began with a combination of circumstances which inspired me to create my own altar. Three golden angels who were perched atop a shelf at Goodwill called to me and the Easter candy offering that flooded the aisle of the grocery store was irresistible. The divine centerpiece was predestined to be a Russel Stover's chocolate cross. A Baroque sunburst completed this fantastic, over-the-top altar piece assemblage. Compositing photographs enabled me to push this religious imagery a little further and continue to bring disparate items together. The sky is symbolic for the heavenly and the shopping cart, a vehicle for transporting stuff to God. During the creative process, I considered questions about faith as a result of a series of trials I had been through.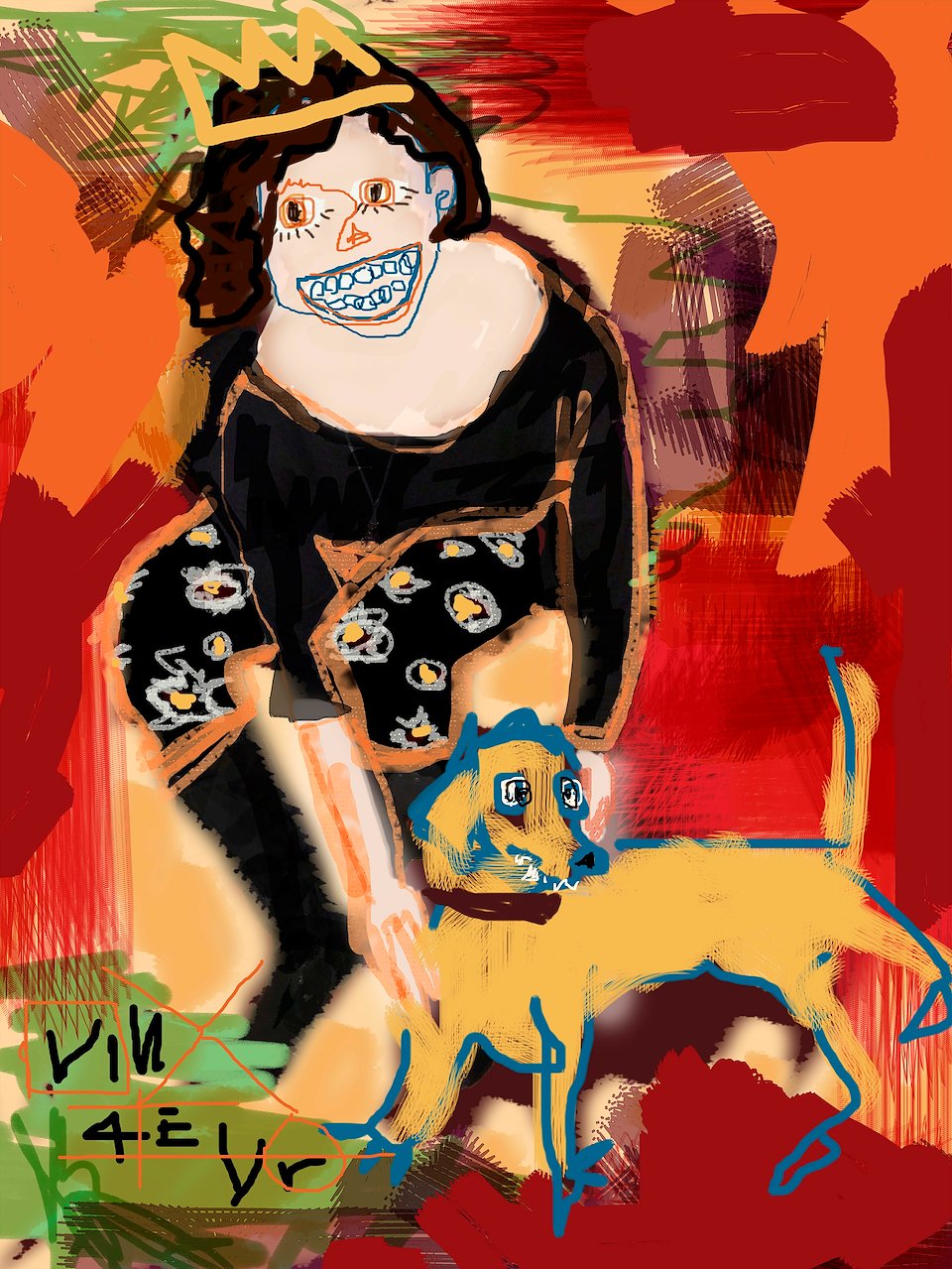 Vinny and Me a la Basquiat
Loosely following a snapshot, I reinterpreted this portrait in the style of a favorite artist, Jean Michel Basquiat. Vinny is a rescued labrador/corgi mix who has a few challenges because of his kooky body shape. I played off his unconventional look and decided to create an energized, colorful, graffiti-like depiction that is unquestionably a more accurate representation! True to Basquiat is the additional cryptic text, describing how this dog has won me over.